Welcome to BungeeFit
We have moved!!
All classes are now held at our brand new studio!

The new studio address is:
Unit 1a, The Eagle Works building, Hooton street, NG3 2NJ

Don't worry - it's literally 5 minutes down the road from the old studio! If you are coming from North Nottingham and want to avoid the traffic on Huntingdon street, we recommend you take the quiet back roads. The front door is on Hooton Street and accessible via the courtyard carpark. The door is to the left and has a buzzer for PoleKat & Bungee - we're on the first floor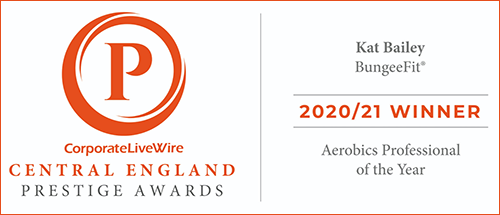 Welcome to BungeeFit! Prepare yourself for a workout like no other! Bounce, fly & defy gravity whilst attached to a state of the art bungee rig. The elastic nature of the bungee means that there is very little impact through the joints, making it an ideal exercise if you have joint problems, sciatica, arthritis, or are recovering from injury.
Our classes range from beginner technique-based sessions, to HIIT Cardio workouts, choreographed dance classes and acrobatic adventures. Nottingham is the base for our Headquarters, which was the UKs first and original BungeeFit Arena, and now also serves as a teaching centre for fitness instructors who want to become qualified in Aerial Bungee. View our nationwide directory for instructors across the country.
Browse our website to learn more, take a look at our gallery to get a real feel for it and view our timetable to see when it happens. Or head straight to the booking page to view and book all of your classes (please note that to book more than 1 person onto a class, you currently have to repeat the booking process for each individual, we apologise for any inconvenience and are constantly working to improve our services).
We are keeping you safe during the Covid-19 pandemic, please read our Covid-19 information for more details.
We look forward to seeing you in class soon!
Please consider signing up to our newsletter below to keep up to date.
-----------
Post your BungeeFit photos on social media and tag us to be in with a chance to win a free session! Find us on Facebook, Instagram and Twitter!